Jackson Hospital Deploys Germ-Killing Robot
Hospital news
|
Tuesday, June 20, 2017
Tru-D SmartUVC Protects Patients from Hospital-Acquired Infections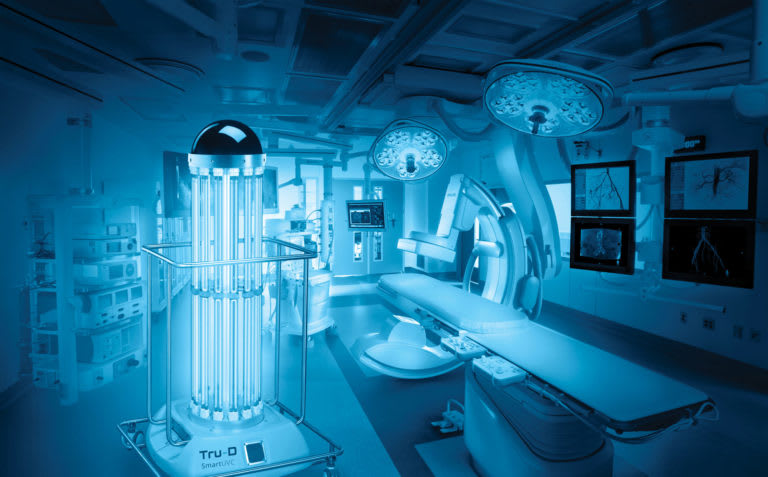 Montgomery, Ala. – Jackson Hospital recently added Tru-D SmartUVC, a germ-eliminating UV disinfection robot, to its already stringent disinfection protocols as a proactive measure to protect patients from serious and deadly hospital-acquired infections (HAIs). The hospital is the first in the River Region to offer this protection to its patients.
Tru-D is one way Jackson Hospital is raising the bar when it comes to the level of care it provides to all patients. According to the CDC, in the U.S., one in 25 patients acquire an HAI while being treated, and 75,000 patients die during their hospitalizations each year.

"The acquisition of Tru-D is an added layer of protection that we will use to safeguard the well being of our patients," said Jackson Hospital president and CEO, Joe Riley. "While we already implement stringent infection prevention protocols, having Tru-D added to our standard cleaning protocols will give our patients and staff peace of mind that our facility is safe and continually improving," Riley said.

Tru-D, which works by generating UV light energy that modifies the DNA or RNA structure of an infectious cell, is the only portable UV disinfection system on the market with Sensor360™ technology. The device's patented technology calculates the amount of UVC energy needed to disinfect an entire room while taking into account room variables – such as size, shape, surface reflectivity and the amount and location of equipment in the room – and delivers a lethal dose from a single location, effectively eliminating lingering pathogens in the space.

Tru-D kills deadly germs such as Ebola, methicillin-resistant Staphylococcus aureus (MRSA), Clostridium difficile (C. diff), Middle East Respiratory Syndrome (MERS), Norovirus and Enterovirus D68. "Hospitals that provide an extra level of care by disinfecting rooms with Tru-D are taking a proactive step in ensuring patients and staff have a clean and germ-free environment," said Chuck Dunn, president and CEO of Tru-D SmartUVC. "Proven by the CDC-funded Benefits of Enhanced Terminal Room Disinfection, Tru-D was clinically-validated to reduce HAIs by 30 percent when coupled with standard cleaning methods. Tru-D takes the guesswork out of previous protocols and ensures confidence in clinicians and patients alike."

After a hospital staff member cleans the room using traditional methods, Tru-D is rolled in the room to complete the process. The robot is remotely-operated and features iTru-D, an application that tracks infection control data and simultaneously uploads the information to the hospital's web portal. Set up is quick and easy and does not require input of room measurements or covering of windows and vents. The system can disinfect an entire room from one location, eliminating the need to move it to multiple places in the room. Its patented Sensor360™ technology analyzes the unique variables of the room and floods the space with the proper, lethal dose of UV light energy. Tru-D spends whatever time is necessary to confidently eliminate infectious germs from contaminated surfaces before shutting down and notifying the operator that disinfection is complete.

About Jackson Hospital

Founded in 1946, Jackson Hospital ranks among the largest hospitals in Alabama and is nationally recognized for the excellence in care it has traditionally provided to all who use its services. Jackson is a certified Advanced Primary Stroke Center and was the first hospital in Alabama to earn the Gold Seal of Certification from the Joint Commission for spine surgery, heart attack care (AMI) and abdominal aortic aneurysm (AAA) repair. Jackson has also earned the Blue Cross Blue Shield Distinction Center for Maternity Care, Knee and Hip Replacement and Spine Surgery. For more information about Jackson visit Jackson.org.

About Tru-D
Tru-D SmartUVC is the only UV disinfection device backed by a CDC-funded, randomized clinical trial to show that it is capable of reducing the transmission of health care-associated infections by up to 30 percent. More Tru-Ds have been deployed to disinfect hospitals across the globe than all other competing look-alike offerings, fighting deadly pathogens such as C. diff, MRSA, CRE, VRE, MERS, Ebola and many more. An effective and innovative technology backed by sound science, Tru-D SmartUVC is on a mission to eradicate HAIs making hospitals safer places for patients and staff. For information and links to independent studies on Tru-D, visit Tru-D.com.