Gluten-free veggie-lover rice-crust pizza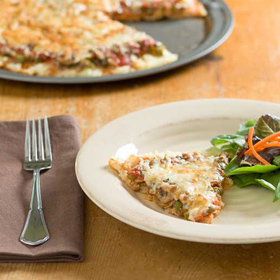 View step-by-step instructions

Makes 4 servings.
Ingredients
1 cup arborio rice
2 1/2 cups water
1/4 teaspoon salt
1/4 cup (1 ounce) plus 1 tablespoon grated Parmesan cheese, divided
1 large egg, beaten
1 tablespoon extra-virgin olive oil
1/2 cup chopped onion
1 cup chopped green bell pepper
2 garlic cloves, finely chopped
2 cups thinly sliced mushrooms
1/2 teaspoon ground black pepper
Salt, to taste
1 cup tomato sauce
1 teaspoon dried basil
1 teaspoon dried oregano
1 cup (4 ounces) shredded part-skim-milk mozzarella cheese
Cooking spray
Directions
Preheat oven to 425 degrees.
Coat a 12-inch round pizza pan or baking sheet with cooking spray.
In medium saucepan, combine rice, water and salt.
Bring to boil over medium-high heat. Reduce heat, cover, and cook until rice is soft, 18 minutes.
In large mixing bowl, combine hot rice with 1/4 cup of Parmesan cheese and egg. Use fork to mix until well combined.
Mound rice mixture in center of prepared pan.
With back of fork, spread rice out to cover pan, and then make edge neat.
Bake crust until surface feels dry and firm, 18 to 20 minutes.
Meanwhile, heat oil in medium skillet over medium-high heat.
Add onion, green pepper and garlic, and cook, stirring frequently, until onion is translucent, 5 minutes.
Add mushrooms and black pepper, and cook until all moisture has evaporated from mushrooms and they are browned, about 12 minutes, stirring more frequently toward the end.
Add salt to taste.
Spread mushroom mixture over rice crust.
Spoon tomato sauce over vegetables.
Sprinkle on basil and oregano, then mozzarella and remaining tablespoon of Parmesan cheese.
Bake pizza in oven until cheese is melted and starts to brown, about 15 minutes.
Remove from oven and let stand 5 minutes.
Cut pizza into 4 wedges. Serve immediately.
Nutrition information
Serving size: 1 wedge. Amount per serving: 290 calories, 12g total fat (6g saturated fat), 29g carbohydrates, 14g protein, 2g dietary fiber, 430mg sodium.