Bok choy and spinach salad with chicken and clementines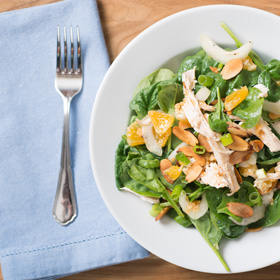 View step-by-step instructions

Makes 4 servings.
Ingredients
2 six-ounce skinless and boneless chicken breasts
3 cups fat-free, reduced-sodium chicken broth
3 cups baby spinach, lightly packed
4 leaves bok choy
1/2 cup sliced scallions, green and white parts
2 clementines
1 tablespoon fresh lime juice
1 tablespoon rice vinegar
1 teaspoon reduced-sodium soy sauce
1 teaspoon grated ginger
1/2 teaspoon Sriracha sauce (optional)
1/4 teaspoon salt
Freshly ground black pepper
2 teaspoons toasted sesame oil
1/4 cup sliced almonds, toasted
Directions
In medium saucepan, place chicken and broth over medium-high heat.
When bubbles just appear, about 8 minutes, reduce heat and cook with liquid simmering until an instant-read thermometer registers 165 degrees when inserted into thickest part of breast, about 20 minutes.
Cool chicken in broth until cool enough to tear into bite-size pieces. Pour broth through strainer lined with paper towel, and reserve for another use.
Place spinach in salad bowl. Cut white part of bok choy leaves crosswise into thin slices, and add to spinach. Reserve green, leafy part to use in soup or stir-fry.
Add scallions, and arrange chicken over greens.
Cut one clementine crosswise into thin slices. Remove peel, separate slices into thin wedges, and add to salad.
Halve remaining clementine crosswise, and squeeze juice into small bowl.
Add lime juice, vinegar, soy sauce, ginger, Sriracha sauce (if using), salt and 3 to 4 grinds pepper, whisking to combine. Whisk in oil.
Pour dressing over salad. Sprinkle with almonds.
To serve, toss salad and divide among 4 wide salad bowls or medium-sized plates.
Nutrition information
Serving size: 1/4 of recipe. Amount per serving: 185 calories, 7g total fat, (1g saturated fat), 10g carbohydrates, 23g protein, 2g dietary fiber, 290mg sodium.