Fresh cherry and corn salad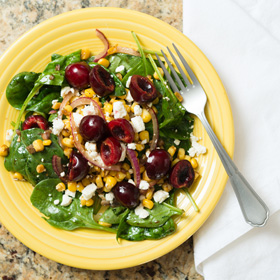 View step-by-step instructions

Makes 8 servings.
Ingredients
Dressing
1/2 medium shallot, finely chopped
3 cloves garlic, minced
1/4 cup extra-virgin olive oil
1/4 cup balsamic vinegar
Salt and freshly ground black or white pepper to taste
Salad
5 ounces baby arugula or baby spinach
3 cups thawed frozen corn or 4 ears cooked fresh corn, kernels sliced off cob
1/2 cup finely sliced red onion
3/4 cup feta cheese
1 pound fresh dark cherries, pitted, sliced in half*
Directions
In small mixing bowl, combine all dressing ingredients. Whisk well.
In large salad bowl, combine arugula, corn and onion.
Drizzle with dressing and toss to coat.
Arrange salad on individual dishes, and sprinkle with feta. Top with cherries, and serve.
*Frozen cherries, thawed, may be used.
Nutrition information
Serving size: 1/8 of recipe. Amount per serving: 215 calories, 10g total fat (3g saturated fat), 29g carbohydrates, 6g protein, 3g dietary fiber, 167mg sodium.