Rhubarb-strawberry parfaits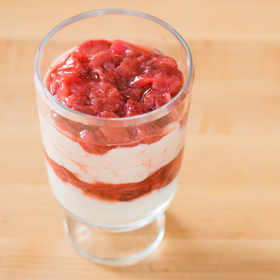 View step-by-step instructions

Makes 4 servings.
Ingredients
1 pint strawberries, hulled and thickly sliced
1/2 pound fresh rhubarb cut into 1 1/2-inch pieces
1/4 cup water
1/4 cup orange juice
1/4 cup sugar
1 vanilla bean, split lengthwise
1 1/2 cups nonfat plain yogurt
1 teaspoon pure vanilla extract
1 teaspoon sugar, preferably superfine (optional)
Directions
Combine strawberries, rhubarb, water, orange juice, sugar and vanilla bean in a heavy, medium saucepan. Bring to a boil over medium heat, stirring to dissolve the sugar. Reduce heat, cover and simmer until fruit is very soft, about 10 minutes.
Put mixture in a bowl and refrigerate until cold, about 4 hours.
Mix yogurt and vanilla until well-combined. Taste and, if desired, stir in superfine sugar. Chill until serving time.
To serve, layer yogurt mixture and strawberry-rhubarb mixture alternately into parfait glasses, ending with fruit. Parfaits can be prepared a few hours ahead and refrigerated.
Nutrition information
Serving size: 1/4 recipe. Amount per serving: 131 calories, less than 1g total fat (0g saturated fat), 30g carbohydrates, 5g protein, 3g dietary fiber, 54mg sodium.