Summer tomato and corn salad with basil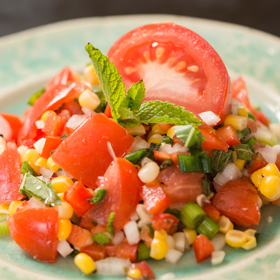 View step-by-step instructions

Makes 4 servings.
Ingredients
1 large ear local yellow or yellow-and-white corn
3 ripe medium tomatoes
1/2 red bell pepper, finely chopped
1/3 cup thinly sliced green onions, green and white parts
1/3 cup finely chopped sweet onion
1 tablespoon fresh lime juice
1/2 teaspoon kosher salt
1/4 teaspoon mustard powder
Freshly ground pepper
4 to 5 large basil leaves
1 tablespoon chopped fresh mint, optional
Directions
Shuck corn and steam for 3 minutes.
When corn is cool enough to handle, cut the kernels off ear and place them in a mixing bowl.
Halve tomatoes vertically, and cut one half into 4 wedges for garnish.
Remove seeds from remaining tomatoes.
Chop tomatoes and add to corn.
Add red pepper, green onions and sweet onion.
In a small bowl, whisk lime juice with salt, mustard powder, and 4 or 5 grinds of pepper until salt dissolves.
Pour dressing over salad and toss gently with fork to combine. At this point, salad can sit for up to 15 minutes.
Just before serving, stack basil leaves, then cut crosswise into thin strips and add to the salad. Add mint, if using.
Toss to combine herbs with salad. Garnish with tomato wedges. Serve immediately.
Nutrition information
Serving size: 1 cup. Amount per serving: 45 calories, less than 1g total fat (0g saturated fat), 10g carbohydrates, 2g protein, 2g dietary fiber, 242mg sodium.