Spiced toasted almonds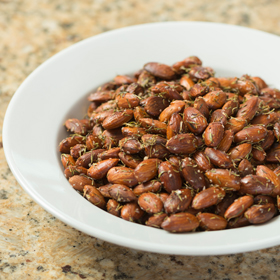 View step-by-step instructions

Makes 8 servings.
Ingredients
1 tablespoon dried thyme leaves
1 teaspoon kosher or sea salt
1/4 teaspoon red (cayenne) pepper, or to taste
2 teaspoons canola oil
2 cups whole, unblanched almonds
Canola oil spray
Instructions
Preheat oven to 400 degrees.
In a large, shallow bowl, combine thyme, salt, pepper and oil. Set aside.
Place nuts in a medium bowl. While tossing with fork, lightly spray with canola oil so all surfaces are coated.
Lightly coat baking sheet with canola oil spray.
Turn nuts onto sheet and spread evenly across surface.
Place baking sheet in center of the oven. Toast until nuts are lightly browned and fragrant, about 8 minutes. Occasionally, shake pan to shift nuts and prevent scorching. (Be careful not to let nuts get too dark, or they'll taste burned.)
Remove from oven, and immediately add hot nuts to spice mixture. Stir for a few minutes to coat the nuts thoroughly. Taste and adjust the seasonings.
Serve warm or at room temperature.
Nuts can be sealed and stored for up to 2 weeks. Reheat in a hot oven.
Nutrition information
Serving size: 1/8 of recipe. Amount per serving: 223 calories, 19g total fat (1g saturated fat), 7g carbohydrates, 7g protein, 4g dietary fiber, 235mg sodium.
Source: American Institute for Cancer Research