Chicken and pear salad with mint dressing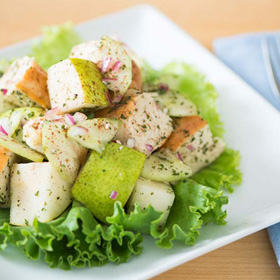 View step-by-step instructions

Makes 4 servings.
Ingredients
Salad
4 large lettuce leaves
3 firm, ripe pears, cut into approximately 1-inch cubes
Juice of 1/2 lemon
2 cups cooked chicken breast, cut into 1-inch cubes
1 cucumber, peeled, sliced thin and coarsely chopped
4 tablespoons red onion, finely chopped
Dressing
1/4 cup white vinegar
1 teaspoon lemon juice
1 to 2 tablespoons honey
1/3 cup minced fresh mint
1/8 teaspoon salt
1/8 teaspoon black pepper
1 teaspoon cinnamon
Directions
Drizzle cubed pears with lemon juice.
In large mixing bowl, combine pears, chicken, cucumber and onion. Set aside.
Blend vinegar, lemon juice, honey, mint, and salt and pepper in food processor or blender until smooth.
Drizzle dressing over fruit and chicken mixture, and toss gently to coat.
If not serving immediately, cover and refrigerate.
To serve, retoss gently, sprinkle with cinnamon and arrange on plates with beds of lettuce.
Nutrition information
Serving size: 1/4 of recipe. Amount per serving: 231 calories, 3g total fat (less than 1g saturated fat), 31g carbohydrates, 23g protein, 5g dietary fiber, 131mg sodium.