Butternut squash enchiladas with salsa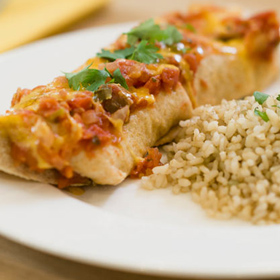 View step-by-step instructions

Makes 7 servings
Ingredients
1 package (16 ounces) frozen, diced, peeled butternut squash or 2 cups fresh squash, seeded, peeled and diced
1 cup water
1 tablespoon olive oil
1/2 sweet onion, finely chopped
1 can (15.5 ounces) no-added-salt black beans
1 teaspoon ground cumin
3/4 teaspoon ground cinnamon
Salt and ground black pepper, to taste
Canola oil spray
7 large whole-wheat tortillas (about 7 inches)
1 cup grated cheddar cheese, divided
1 cup tomato salsa
1/4 cup chopped fresh cilantro leaves, for garnish (optional)
Directions
Place squash in medium saucepan. Add water. Cover pot tightly and place over medium-high heat.
Cook until squash is tender but not mushy, 12 to 15 minutes, depending on size of cubes.
Drain squash and set aside.
While squash is cooking, in a large skillet, heat oil over medium-high heat.
Add onion and sauté until soft and translucent, about 4 to 5 minutes, stirring occasionally.
Add beans and partially mash with fork.
Mix in squash, cumin and cinnamon. Add salt and pepper, if desired.
Remove from heat and set aside.
Preheat oven to 350 degrees.
In 9-by-13-inch baking dish, lightly coat interior with cooking spray and set aside.
Coat tortilla on both sides with cooking spray. Lay on plate.
Spoon 1/2 cup filling on tortilla and top with 1 1/2 tablespoons cheese.
Roll up filled tortilla and set at one end of baking dish. Repeat, placing filled tortillas side by side, filling baking dish tightly.
Pour salsa over assembled enchiladas.
Sprinkle remaining cheese (about 1/4 cup) over sauce. Cover pan with foil.
Bake enchiladas about 25 to 30 minutes, until heated through.
Uncover and serve garnished with cilantro, accompanied by cooked brown rice, if desired.
Nutrition information
Serving size: 1 enchilada. Amount per serving: 260 calories, 6g total fat (1g saturated fat), 38g carbohydrates, 12g protein, 6g dietary fiber, 460mg sodium.