Grilled lemon-basil halibut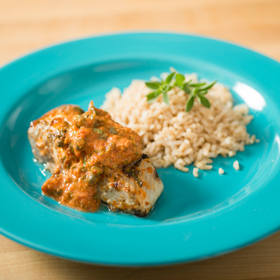 View step-by-step instructions

Makes 4 servings.
Ingredients
5 tablespoons fresh lemon juice
4 tablespoons olive oil
4 garlic cloves, finely minced
1 teaspoon grated lemon peel
2 tablespoons oil-packed sun-dried tomatoes
1/4 cup fresh basil, minced
4 teaspoons capers, drained
Salt and freshly ground black pepper, to taste
1 pound halibut fillets
Directions
Mix lemon juice, olive oil, garlic, lemon peel and sun-dried tomatoes in blender or food processor.
Stir in 2 tablespoons fresh basil and the capers.
Season to taste with salt and pepper.
Pour half of vinaigrette over fish, and marinate 15 to 30 minutes.
When ready to grill fish, remove from marinade. Discard that marinade.
Prepare the grill, and spray with oil to keep fish from sticking.
Grill fish until just cooked through, 2 to 4 minutes per side.
Divide fish among 4 plates.
Stir remaining vinaigrette, and drizzle over fish.
Nutrition information
Serving size: 1/4 recipe. Amount per serving: 211 calories, 11g total fat (2g saturated fat), 2g carbohydrates, 24g protein, less than 1g dietary fiber, 111mg sodium.