Tilapia with curry and orange rice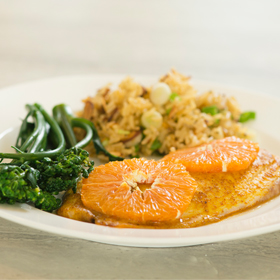 View step-by-step instructions

Makes 4 servings.
Ingredients
3/4 cup long-grain brown rice
3/4 cup orange juice
1 cup water
3/4 teaspoon salt, divided
1/4 cup sliced almonds, preferably toasted
2 to 4 teaspoons mild curry powder
4 teaspoons canola oil
4 (4-ounce) tilapia fillets
1 navel orange
1/2 cup chopped scallions, green and white parts
Freshly ground black pepper
Directions
Place rice and orange juice in medium saucepan. Add water and 1/4 teaspoon salt. Bring to boil over medium-high heat, cover tightly, reduce heat to simmer until rice is tender, 45 to 50 minutes.
Off the heat, let rice sit, covered, for 10 minutes. Fluff with fork, and set aside.
While rice cooks, preheat oven to 400 degrees. If almonds are not toasted, spread on baking sheet and bake for 5 minutes, or until golden, watching carefully as they will burn easily. Immediately transfer nuts to a plate and cool to room temperature. If nuts are already toasted, skip this step.
In small bowl, mix together curry powder, oil and 1/2 teaspoon salt to make a paste. With brush, spread 1/4 of paste over each fillet, coating lightly, and arrange seasoned fillets on baking sheet in 1 layer.
To peel orange, use paring knife to remove a thin slice from top and bottom. Standing fruit on a work surface, work knife blade along the curve of the fruit, removing peel and pith in strips. Cut orange horizontally into 8 slices. Arrange 2 slices on top of each fillet.
Bake fish for 7 to 10 minutes, or until it is white and flakes easily at the thickest part.
To serve, place 1 fish fillet on each of 4 dinner plates. Mix almonds and scallions into orange rice, and season to taste with salt and pepper. Spoon 1/4 of rice onto each plate. If desired, add steamed broccoli raab or spinach, drizzled with a bit of extra-virgin olive oil. Serve immediately.
Cook fish to 145 degrees to help prevent foodborne illness.
Nutrition information
Serving size: 1/4 recipe. Amount per serving: 375 calories, 12g total fat (less than 1g saturated fat), 39g carbohydrates, 29g protein, 3g dietary fiber, 514mg sodium.