Asian lentil soup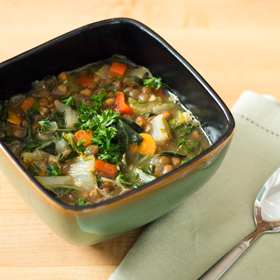 View step-by-step instructions

Makes 8 servings.
Ingredients
1 tablespoon sesame oil
2 medium carrots, sliced thin
2 celery stalks, sliced thin
1 medium red bell pepper, diced
1 small onion, chopped medium
1 bunch bok choy, chopped (use green leaves and 2 inches of white stalk)
2 cans (15 ounces each) no-salt-added lentils (or cook 1 cup dry lentils per package direction)
3 cups low-sodium vegetable broth
4 cloves garlic, minced
1 teaspoon fresh minced ginger
2 tablespoons low-sodium soy sauce
1 tablespoon organic hoisin sauce
1/4 teaspoon red pepper flakes or to taste
Salt and pepper to taste
Fresh parsley finely chopped to garnish
Directions
Heat oil over medium heat in large pot.
Sauté carrots, celery, bell pepper, onion and bok choy until tender, about 5 minutes.
Set aside.
Add lentils and remainder of soup ingredients to sautéed vegetables, reserving parsley.
Bring to a boil.
Reduce heat, cover and simmer for 10 minutes.
Garnish with parsley and serve.
Nutrition information
Serving size: 1 cup. Amount per serving: 155 calories, 3g total fat (less than 1g saturated fat), 24g carbohydrates, 10g protein, 8g dietary fiber, 230mg sodium.