Spring tuna salad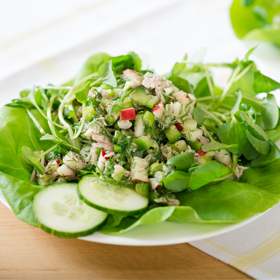 View step-by-step instructions

Makes 2 servings.
Ingredients
1 (6-ounce) can water-packed albacore tuna
3/4 cup finely chopped Honeycrisp, Gala or Fuji apple
1/2 cup finely chopped green bell pepper
1/2 cup finely chopped scallions, green and white parts
2 tablespoons fresh lemon juice
Salt and ground black pepper to taste
1 tablespoon canola oil
1/3 cup chopped fresh dill
2 teaspoons grated lemon zest
4 butter or Boston lettuce leaves
4 slices European (English) cucumber
2 lightly packed cups watercress sprigs
Directions
In mixing bowl, finely flake tuna with fork. Mix in apple, green pepper and scallions. Add lemon juice, salt and pepper to taste, and toss to combine. Mix in canola oil. The salad may be covered and refrigerated for up to 4 hours.
When ready to serve, mix in the dill and lemon zest. Line 2 salad plates each with 2 lettuce leaves and add 2 cucumber slices. Mound 1/2 of the tuna salad on each plate. Surround with the watercress sprigs, and serve.
Nutrition information
Serving size: 1/2 of recipe. Amount per serving: 220 calories, 10g total fat (1g saturated fat), 12g carbohydrates, 22g protein, 3g dietary fiber, 55mg sodium.