Very berry whole-wheat bread pudding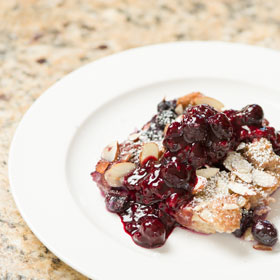 View step-by-step instructions

Makes 6 servings.
Ingredients
1 cup frozen or fresh cherries (tart or sweet), pitted
1 cup fresh or frozen blueberries
1/4 cup sugar
1 teaspoon ground cinnamon
5 ounces fresh whole-wheat bread, cubed (about 3 cups)
2 eggs
3/4 cup low-fat milk
1/2 teaspoon vanilla extract
1/4 teaspoon salt
Canola oil cooking spray
Topping:
1 ounce sliced almonds
1 teaspoon powdered sugar, garnish
Directions
Combine cherries, berries, sugar and cinnamon in mixing bowl.
Stir well to coat berries; add bread cubes.
In another bowl, whisk together eggs, milk, vanilla and salt.
Pour egg/milk mixture over berry/bread mixture and stir to coat bread thoroughly.
Let mixture stand for 15 to 30 minutes to enable ingredients to combine and the bread to soak up the egg mixture.
Preheat oven to 325 degrees.
Spray a 9-inch baking dish.
Pour pudding mixture into baking dish.
Bake 20 minutes.
Remove from oven and evenly distribute almonds over pudding.
Return to oven and continue baking until pudding starts to set, about 25 to 30 minutes.
Remove from oven and let rest for 10 minutes.
Garnish with powdered sugar. Serve warm.
Optional fruit sauce topping
Ingredients
1 pound (16-ounce) bag frozen unsweetened mixed berries
1/2 teaspoon cornstarch
Directions
Thaw berries; save drained juice and mix with cornstarch.
Cook berries over medium-low heat for about 3 minutes.
Add juice mixture to berries and heat until thickened.
Serve over or alongside pudding.
Nutrition information
Serving size: 1/6 of recipe. Amount per serving: 183 calories, 5g total fat (1g saturated fat), 27g carbohydrates, 8g protein, 3.5g dietary fiber, 248mg sodium.